Electromagnetic Investigations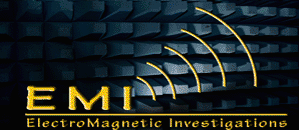 (www.emicomply.com)
Located in Hillsboro, Oregon, USA (the heart of Silicon Forest) ElectroMagnetic Investigations is uniquely qualified to guide and assist you throughout product design, problem resolution, and regulatory testing.
Our EMC engineers have been working in the industry for over 30 years. They are experts in RF/EMC, troubleshooting and regulations. They hold many honors, recognitions, and certifications from IEEE and iNARTE/RABQSA.
We are committed to providing you superior quality testing and services. EMI focuses on meeting your specific needs, from flexible scheduling to unmatched and customized solutions.
We have the people, the facilities and the commitment to get your job done quickly, competently, and when you need it.
EMC Compliance Testing
EMC Evaluation & Troubleshooting
Customer Service
Problem Analysis & Resolution
Regulatory Guidance
Customized Testing
EMC Certification
iNARTE/RABQSA
Cometitve Rates
Flexible Scheduling
Engineering Ecaluation

            Contact:
              20811 NW Cornell Rd.         (503) 466-1160
              Suite 600                    (888) 466-1160
              Hillsboro, Oregon 97124      www.emicomply.com